-
I.E. Radio
(
http://www.shirleymaclaine.com/encounter/forumdisplay.php?f=278
)
| | |
| --- | --- |
| Thomas Ramey Watson | 02-12-2014 11:16 AM |
---
Signed copies of my new book Love Threads is now available directly from me. Pay Pal buttons are now on my site:
www.thomasrameywatson/editing
Don't forget to buy a copy for Valentine's Day. Also available on Amazon in paper and Kindle
| | |
| --- | --- |
| Thomas Ramey Watson | 02-22-2014 12:05 PM |
---
My new animated ad with mention of my books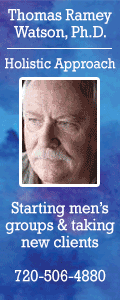 | | |
| --- | --- |
| Thomas Ramey Watson | 03-13-2014 06:32 PM |
---
I'm still waiting for someone to say something about their own experiences in the soul realm--or comment on mine!

Surely some of you have had some. :)
| | |
| --- | --- |
| Thomas Ramey Watson | 03-26-2014 05:06 PM |
---
I had the word
men's
taken out of the
Starting men's groups
in my above ad because I don't want to limit every group to men. I was thinking that the men's group talked about in
Baltho, The Dog Who Owned a Man.
This is the new one
| | |
| --- | --- |
| Thomas Ramey Watson | 03-31-2014 05:05 PM |
---
soul realm experiences, synchronicity and all

FB friends have a great discussion going on over on this public page for a dear Dutch friend who decided to be euthanized after a 14 year battle against cancer. We're talking quite a lot about soul realm experiences, synchronicity and all.
Please join us. A Candle for Gonny
HTML Code:
https://www.facebook.com/groups/444770145626359/445850508851656/?notif_t=like
| | |
| --- | --- |
| Thomas Ramey Watson | 04-26-2014 08:16 AM |
---
I'm about to make another mailing of Baltho, the Dog Who Owned a Man and other books to those who've ordered directly from me. If you're wanting signed copies now is a good time to order from my site:
www.thomasrameywatson.com/edit
| | |
| --- | --- |
| Thomas Ramey Watson | 05-24-2014 03:07 PM |
---
I watched Her the other night and found the movie rather boring. However, I found the central concept fascinating. That Samantha and the other Operating Systems decide to leave their sort of incarnate states to dwell in another realm rather than remain in the Operating System is rather like human souls that incarnate for awhile but then decide to leave the body for something else, some other realm where they are free to explore things they could never explore in the incarnate world. That all things must die in order to move on is made pretty clear. We just wouldn't want to remain in these bodies forever, I don't think.

We also have to consider the idea of whether we purposely incarnate or fall into the flesh because we don't really know better or seek lower realm desires. Various theologies have argued both concepts.
| | |
| --- | --- |
| Cher O | 05-24-2014 05:10 PM |
---
Hi, Thomas.

I believe that we choose to come into this world and have an idea of our path before we get here. And can you envision the day when you can materialize and dematerialize as you wish? We will be shape-changers of energy, not spirits "trapped" in a body. That is how I see our future, as beings of light popping here and there to accomplish our goals. It will be quite fun. No need for death as we know it. No need for food. No need for resources or competition. Just a desire for knowledge and experience. And there is plenty of that to go around. Just a thought.... Love, C. ;)
| | |
| --- | --- |
| Thomas Ramey Watson | 05-29-2014 04:28 PM |
---
Those are interesting notions, Cher. I have no idea if they'll be true. Maybe they already are in some other dimension.

Thinking about such stuff has always interested me. That's one of the reasons I love studying theology, religion, mythology, and philosophy. Many of the notions entertained there have been taken up by science fiction, which also fascinates me.
All times are GMT -7. The time now is

04:41 PM

.
Powered by: vBulletin Version 3.0.6
Copyright ©2000 - 2014, Jelsoft Enterprises Ltd.